---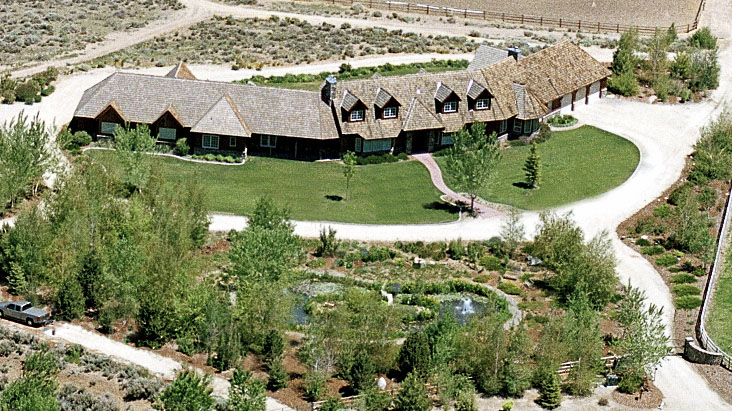 Cottonwood Creek Farm is one of the hidden treasures of Nevada and is open year round. Winner of the prestigious Governor's Tourism Development award, it offers an opportunity to visit the Old West and experience life on a working horse ranch while living amidst the luxury of the silver barons. Three bedrooms with private baths are available to the discerning guest and you will find magnificent views of the Sierra and Pine Nut Mountains from every room. All rooms have wireless internet access, are air conditioned and non-smoking. On-site parking behind electric gates and extensive paths through the gardens give you peace of mind and a sense of truly being away from it all.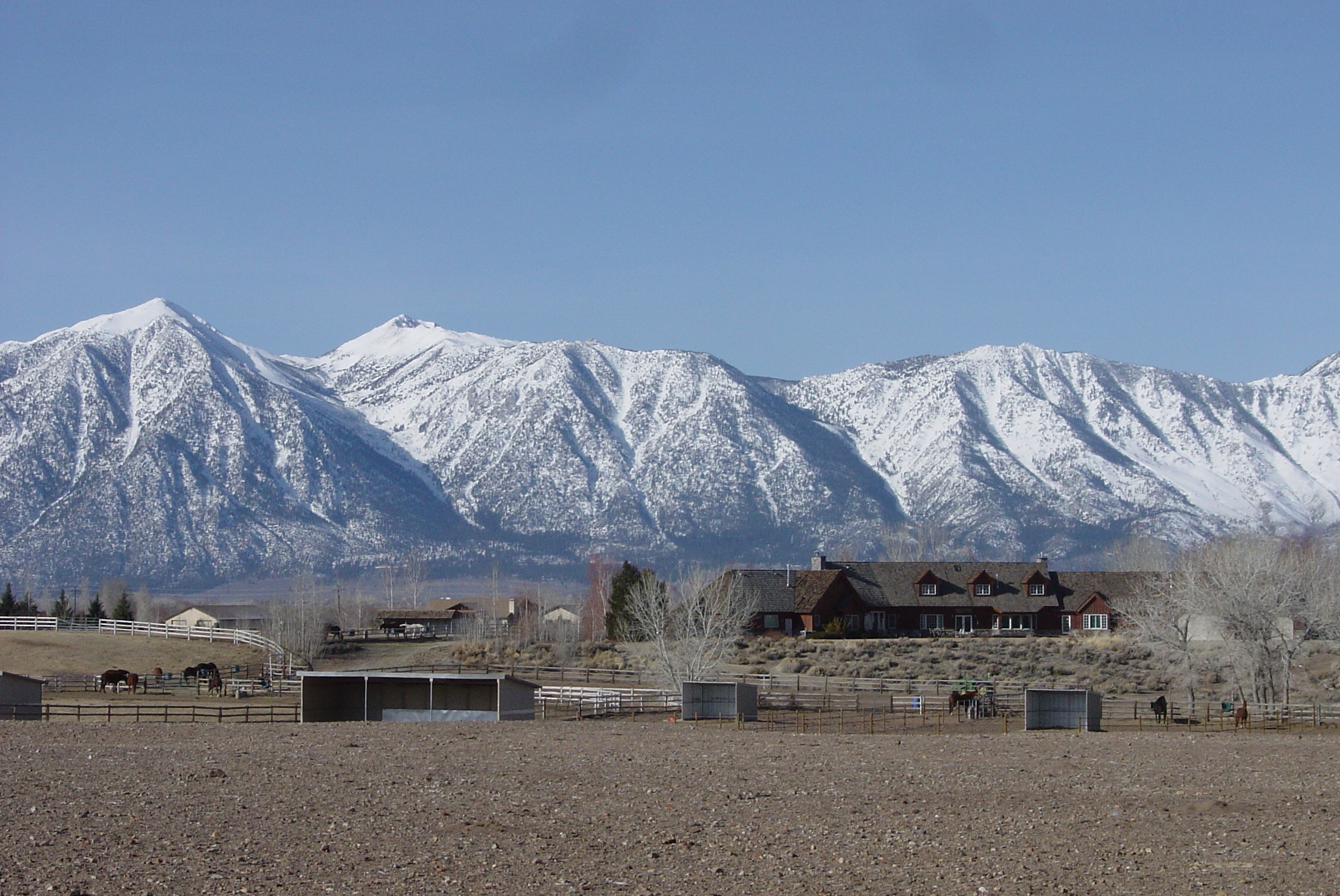 Forty acres are devoted to the boarding, training and raising of horses. In the evening you can often hear the coyotes howl but there is nothing else to disturb the tranquility. The 4,500 square foot ranch house was built in 1995 of natural river rock and solid cedar planks. Each room has a private or ensuite bath, goose down pillows and comforters, air conditioning and wireless high speed internet access. It is decorated with original paintings and antiques collected from around the world and the grounds have many original iron sculptures enchanting the eye at each turn. Window seats and bay windows abound for your enjoyment and the living room is perfect for reading, writing post cards or playing games.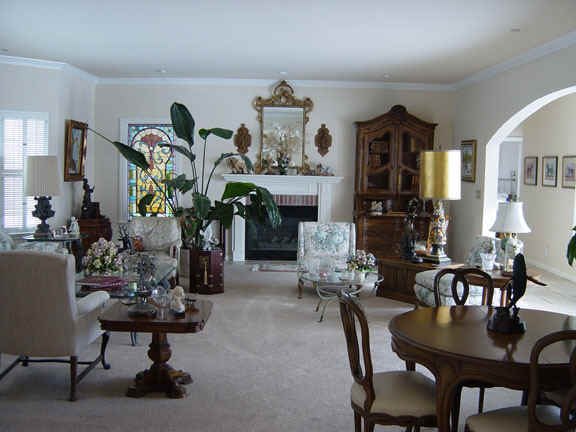 There is twenty-four hour access and English, Spanish and French are spoken. We are centrally located just 30 minutes from South Lake Tahoe, Heavenly Valley, Museums, Casinos, Alpine fishing, Golfing and River Rafting. We are 45 minutes from Virginia City, and one hour from Reno. The Carson Valley is world famous for its soaring and cycling. Hiking trails abound in the nearby Sierras and
be sure to ask Barbara to teach you to "witch" for water with guaranteed results.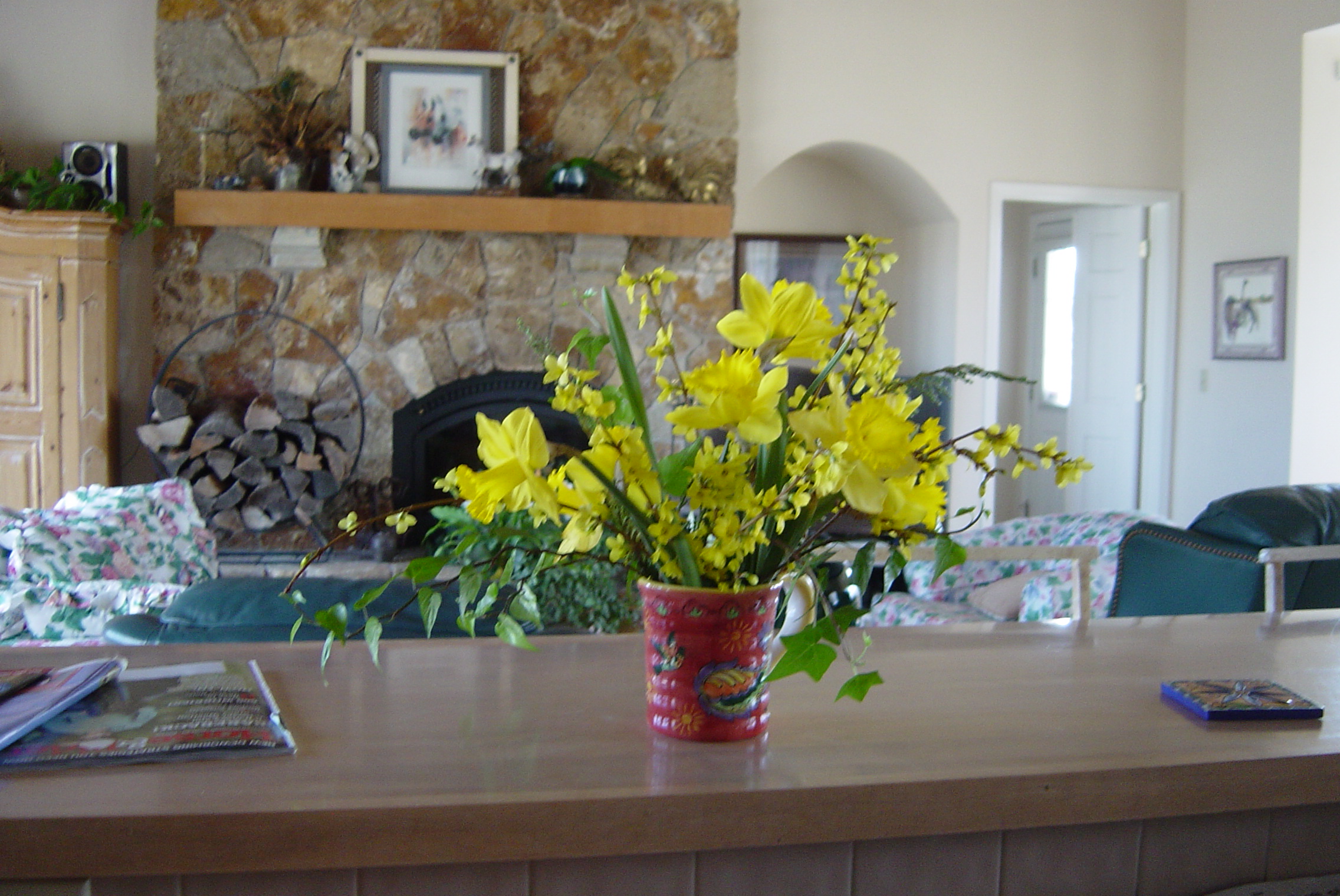 A lovely breakfast may be enjoyed in the dining room at an antique refectory table or on the patio surrounded by lawn and flowers. The front gardens and "forest" are perfect for bringing in a picnic lunch from the local stores and there are delightful restaurants in town for dinners with prices ranging from modest to "rather expensive but worth every penny."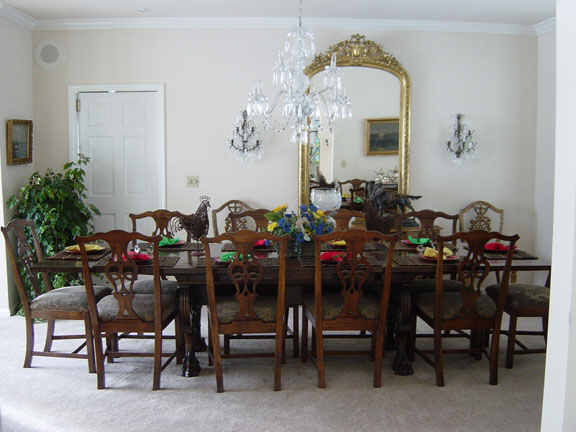 Reduced rates are provided for those desiring only a continental breakfast. Complimentary tea, coffee and cookies are always available in the library/TV room.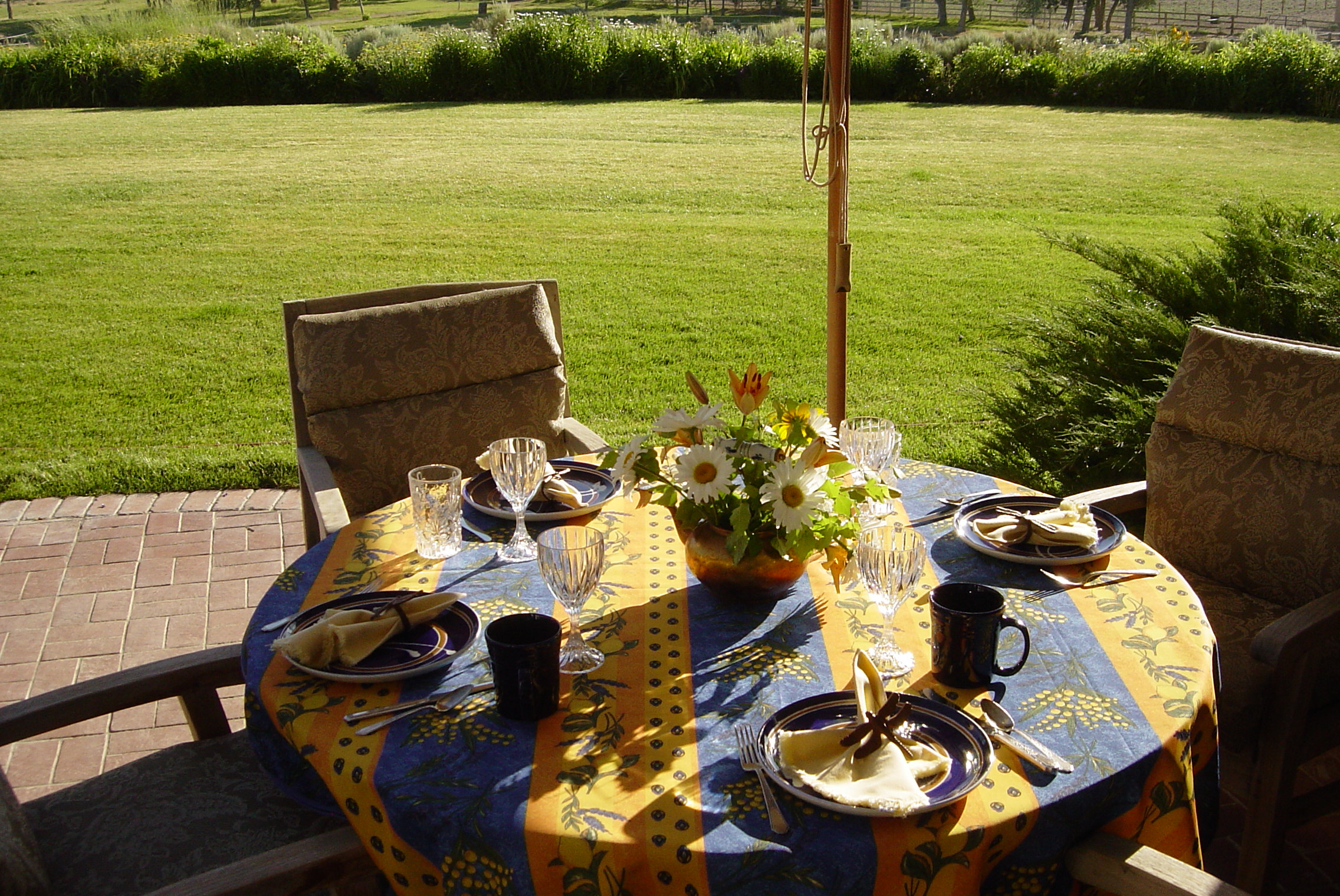 The gardens at the front of the property were chosen for the 2004 Pond and Garden Tour and feature an island in the middle of a pond surrounded by fountains and water lilies. Tossing koi food on the water will bring the koi up for your viewing. A small birch forest invites you to explore its paths or just rest in the shade on one of the many rustic wooden swings and benches that looks out on the gardens and pond. Beautiful Iron and bronze statuary may be found throughout the property. Original iron works by Susan Flakus are one of the highlights.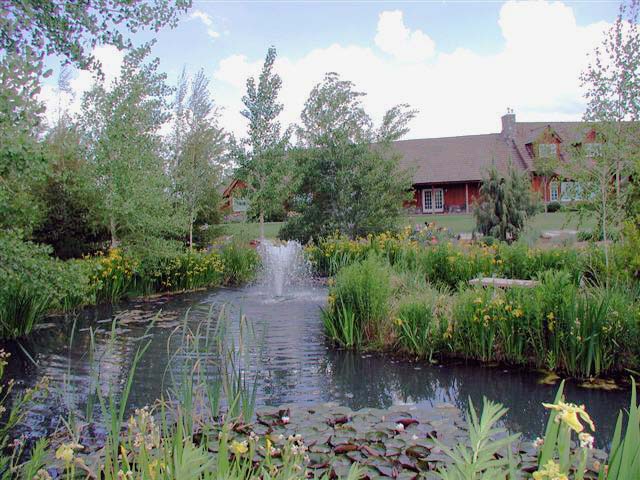 A herd of wild horses can often be found within a mile of the property. We are just three blocks from Bureau of Land Management land where a morning stroll or evening walk along the sage brush lined roads into the wilderness is an intriguing experience. There is a nearby Alpaca Farm that welcome visitors.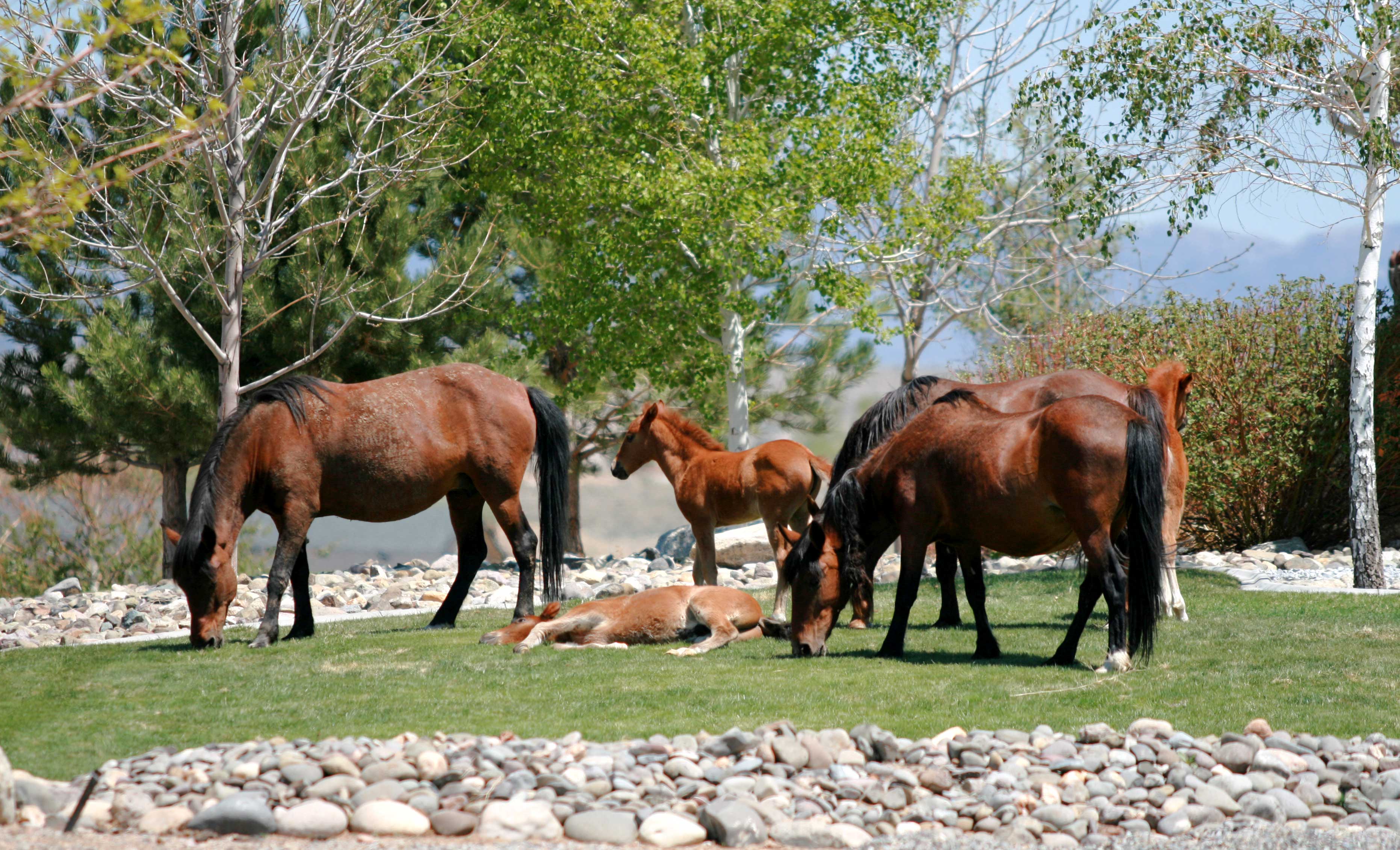 Wild horses enjoying neighbor's property
Days may be spent wandering the grounds watching the horses being trained and cared for or visitors may travel from 10 to 60 minutes to surrounding venues for sports, art, or history. Click on the Sports or Activities links for specifics. Should you remain on the property you will find Angel and Cleo, our two dogs, excellent companions. Of all the barn cats, Splash, the tabby, will be the most demanding of your time.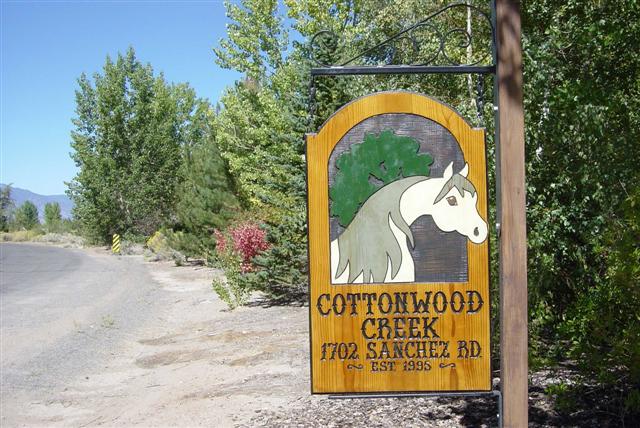 Last updated: July 14, 2011
Webmaster: B. L. Flanagan
Copyright © Cottonwood Creek Arabians. All rights reserved.