Room Rates
Cottonwood Creek is an air conditioned, non-smoking facility and guests under the age of twelve and pets are by special arrangement only. High speed wireless internet service is available from all rooms and guests receive an extensive breakfast served either in the dining room or on the patio alongside the beautiful flowers and green lawn with the green valley, trees and horses beyond. There are magnificent views of the Sierras or Pinenut mountains from all rooms.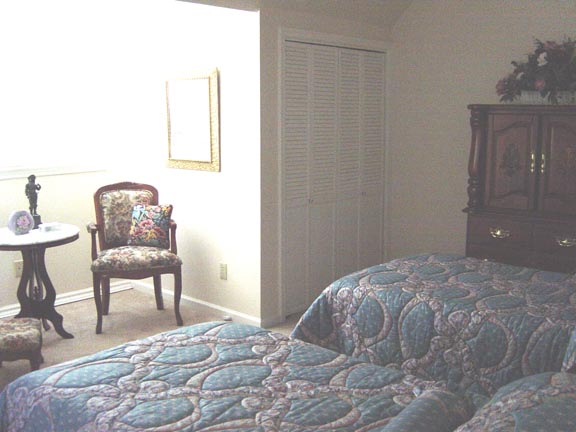 The Mountain View
The Mountain View Room is located on the second floor. It is decorated in a Victorian style reminiscent of the lives of the silver barons who built their mansions in Virginia City in the 1800's. It contains two twin beds which can be pushed together to make a king and has a large closet built into the eaves. Antique figurines from England contribute to the ambiance. The private bathroom is located next door off the hall. Terry cloth robes and goose down pillows and comforters help to set the tone of comfort and relaxation. The window overlooks the pond and garden and has a perfect view of the Sierras located straight ahead.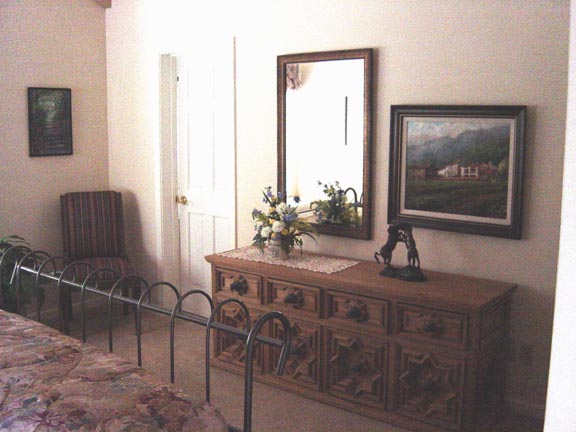 The Garden Room
The Garden Room is located on the first floor. It contains a Beauty Rest king sized bed with goose down pillows and comforter and has a private bath that opens off of the bedroom. It is decorated in a Mexican/Spanish motif with hand-made furniture from Mexico and original paintings from Spain and Italy. It has a natural wood, high beamed ceiling with an overhead fan that contributes to the spacious feeling of this master bedroom. The very large window with a window seat overlooks the back yard with its English flower bed and the valley and pastures below. The large cottonwood trees that give the farm its name are viewed from this location. The Pine Nut Mountains to the east are visible beyond. Morning sun streaming in through the window and the sound of meadow larks will awake you to your day on the ranch.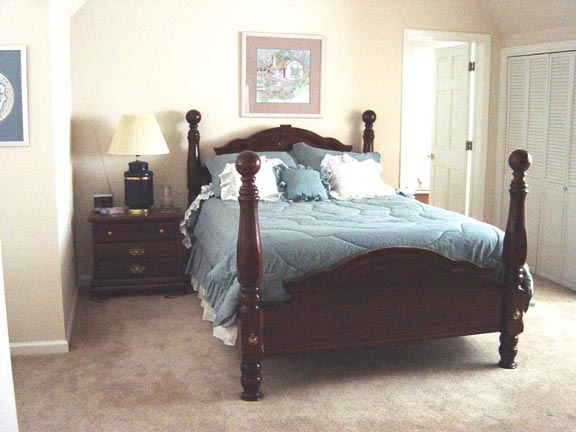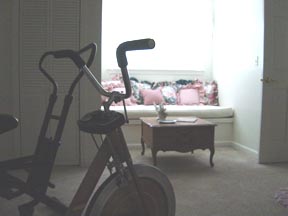 The Comstock Room
The Comstock Room is extremely large and is located on the second floor and was so named because it has everything that a silver baron from the Comstock days might have wanted. It has a large four poster queen-sized bed with goose down pillows and comforter that invite you to snuggle in. The surrounding mountains provide majestic views of the Sierras and Pinenut Mountains from the windows on both sides of the room. It has a very large closet, a window seat in both bath and bedroom and is decorated with original oils and hand painted antiques from the turn of the century. The very large private bathroom adjoining it is most unique with its window seat, coffee table and cardiac work out equipment (low impact Cardio-Glide.) Our latest addition allows you to lie back and enjoy a deep relaxing massage in a state-of-the-art massage chair with pre-programmed massages incorporating heat, air, vibration, tapping, kneading and rolling. It automatically adjusts to each person to properly align with the accupoints in each individual back.
The TV Room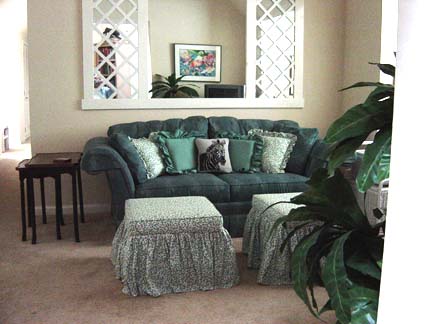 There is a TV room on the second floor with a small library off of the TV room which contains instant tea, chocolate, coffee and cookies for the use of guests. There is a small library of DVD's for your enjoyment as well as Direct TV on the Sony TV.
Reservations
Reservations may be made by sending a 50% deposit with a minimum payment of one night to 1702 Sanchez Road, Gardnerville, NV 89410 or by credit card. Payment may be made by check or credit card (Visa and MasterCard.) Refunds will be made less a $5.00 handling fee if cancellation is received seven days prior to arrival. Outside of the cancellation window, a gift certificate will be issued for the same room and the same length of stay. There is a 13% room tax. Check-in time is between 4:00 and 6:00 and check-out time is 12:00 noon. Call 775 782-3057 for reservations or more information. Early and late check-in and out times can usually be arranged.
---

Rates

All rooms are $145 per night and include a full breakfast.
A simple continental breakfast can be served for $125 per night.

Special Rates

Special rates can be arranged for extended stays.
For one week stays, rooms are available for $99 per night with a continental breakfast.
For stays of two weeks or more, the rate is $79 per night with a limited continental breakfast.
---
Closed on the following dates
January 1-March 31, May 1-June 6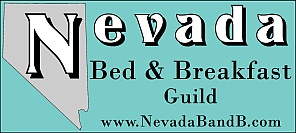 Webmaster: Barbara Flanagan
Last Updated: December 21, 2011